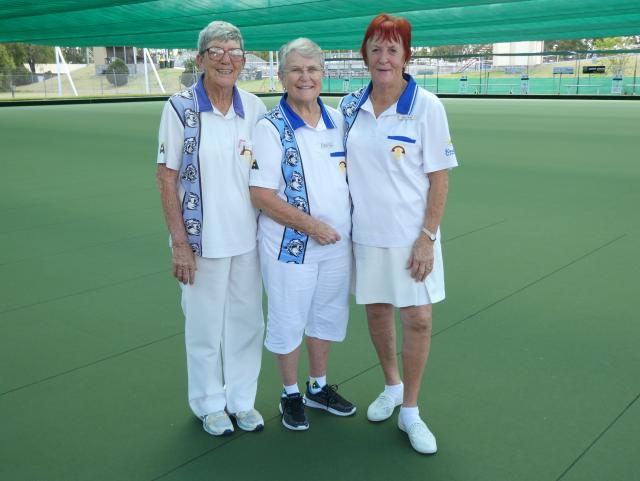 Diggers Memorial Bowls
Men's report
Thursday Bowls.
1st :F.Perry L.Cavanaugh T.Ahern
Consolation Prize : S.Turner G.Kneen D.Millar
Richo's Meats Saturday Bowls
1st ; R,Stone M.Birse W.Cameron
Team Prize : M.Dineen Y.Rutherford B.Doherty
Jackpot not won will be $315 Saturday 24 September.
Coming event Monday 3rd October "All About House' $685 Triples Skips draw Teams one game 21 ends.
Ladies' report
Results from 20 September
K.McCrohon and S.Fern def Y.Rutherford and P.Bugler
Competition for 27 September at 1pm
K.McCrohon and G.Connor V Y.Rutherford and G.Connor
Congratulations to D.Hoare, T.Wall and B.Marshall for runner-up in the District Triples.
Rockhampton Bowls
Men's report
Results
B. Johnson G. Hudson d M. Dobbs E. Gregson 21-19
District Fours
R. Sanders C. Magee G. Hudson E. Gregson
d K. Mathieson (C. Jackson sub) L. Bayes R. McGowan A. Johnson. 20-18
R. Black P. Pidcock W. Richardson J. Slater d J. Hanley T. Zonca P. Robinson M. Hagen 31-22
Competition Sunday 2nd October 2022 9.00am
District four (final)
R. Sanders C. Magee G. Hudson E. Gregson v R. Black P. Pidcock W. Richardson J. Slater
Coming events
24 September is Bates Goddard fours played at Yeppoon. The team selected Is Rod Black, Jeff Slater, Clem Magee, and G. Hudson.
25 September Live Life Shield verses Gracemere at Gracemere. List on the notice board.
25 September 10.00am Regional finals of the Bowls Premier League.
October 1st is the Betta Home Living Mixed Fours.
Ladies' report
Comp. to be played 28 September 2022
Club Triples
P Wiemers, V King, M Dobbs. to play M Kay, J Graff, M Black.
Pairs 2-4-2
S Lane, L Tomkins. To play R Rumpf, K Borg.
Results comp played 14 September 2022
Two Bowl Triples
J Shelton, B Johnston, J Lawrence defeated J Alderson, L O'Dea, M Dobbs
B Armitage, R Rumpf, B Friesacher defeated M Kay, V King, P McGovern
Good Bowling Ladies
Central Queensland District Ladies Bowls
District Triples was played this week at Diggers club with eight teams competing. The finals was played between a Diggers team of Thelly Wall, Bev Marshall, Denise Hoare and a Yeppoon team of Robyn Ross, Patricia Ward and Elly Batts. Congratulations to Thelly, Bev and Denise for reaching the finals and congratulations to the Winners Robyn, Patricia and Elly.
The CQDLBA Division 1 Pennants was recently won by the Yeppoon Club who will travel to Gladstone next week to compete against teams from Gladstone and Bundaberg for a place in the State finals to be played at the Gold Coast in November. Good bowling Ladies.
Yeppoon Ladies Bowls
No bowls were played Tuesday due to the club being closed having no power available.
Competition 27 Sept Ladies Consistency Singles 1pm: A. Bunney v J.Strohfeldt. Marker P. Mavin.
4 October 9am Consistency Singles: M. Goldby v P. Mavin, E. Batts v winner of (A. Bunney v J. Strohfeldt). Markers M. Mathieson, M. Simpson.
1pm Club Triples Final: J. Strohfeldt, K. Buntain, L. Young v A. Luhrs, J. Markey, A. Bunney.
Social bowls will be played every Tuesday afternoon 1pm.
Victoria Park Bowls
Victoria Park was defeated by Bargara Bowls Club 78-51 in the final of Zone 6 Pennants played at the Bundaberg Bowls Club last Sunday. Great effort by the team to make it this far.
Competition Call Saturday 24 September 10.00am B Grade Singles: Michael Forrester v Shaun Latimer; Robbie Medlin v Steve Campbell 1.00pm Club Triples Michael Howard, Col Heath, Alan Wooler v Steve Campbell, Mark Ingham, Brian Ashworth.
Rockhampton and District Indoor Bowls
September 25 R&DIBA Teams day American Tournament Bowls will be held in Kent Street Hall for a 9.30am, Players to be in Hall by 9am.
October 2 Small Bowls on short mats will be held in Kent Street Hall for a 9.30am start, names to go on sheet in Hall. Players to be in the Hall by 9am.
October 9 CQ Restricted Rinks will be held at Port Curtis for a 9.30am start. Members will travel there for the event.
October 16 Is President's Day Bowls. Teams day American Tournament will be held in Kent Street Hall for a 9.30am start, names to go on sheet in Hall, Players to be in Hall by 9am.
October 23 mixed singles bowls will be held in Kent street hall for a 9.30am start, names are to go on the sheet in the hall. Players to be in the hall by 9am.
Emu Park Indoor Bowls
Emu Park Indoor Carpet Bowls, every Tuesday afternoon 12.30 for 1pm start.
$5 entry includes Bowls, lifters and arms if required, afternoon tea and raffle tickets, Finishing at 4pm.
Bowls take place in Emu Park Hall opp shops.
Phone Lyn 0417604869 or Bruce 0418353943.
For Seniors Month in October all Tuesday Bowling is Come and Try Days and are free.
Ages welcome from Teenagers to whatever your age. Non Bowlers most welcome as instructors will teach at no extra cost.
Yeppoon Indoor Carpet Bowls
Held at Showgrounds Hall, Yeppoon enter from Morris St, first building on left.
Sunday – 1-4 pm
Wed – 9-12 am
Fri – 1-4 pm, long mats on Friday.
Bowls lifters and bowling arms and bowls supplied.
Entry $3 and raffle tickets 50cent each.
Phone Yeppoon indoor bowls on 49302194.
Free lessons to everyone, ages from teenagers to whatever your age.
North Rockhampton Pensioners and Superannuants indoor bowls
North Rockhampton Pensioners and Superannuants enjoy an indoor Bowls morning every Wednesday at Bauhinia House on the corner of High and Berserker Streets, North Rockhampton.
Enjoy a cuppa at 9.30am before the start of play at 10am.
New players are always welcome. If you are a beginner, there will be plenty of help to guide you through the game. For more information, phone the secretary on 0408 306 196.