It looks like Capcom's Resident Evil 4 Remake is headed to the Xbox One platform if a recent online listing is to be believed. Back in June, Capcom officially announced the Resident Evil Remake, which is due for release in March 24, 2023. Given the game was revealed during Sony's State of Play stream, it made no mention of the game hitting Xbox platforms, which was expected given it's a PlayStation-hosted event. 
However, in last week's Capcom TGS 2022 showcase, the studio announced that RE4 Remake will also be coming to PS4, and also confirmed it's coming to Xbox Series X|S, too, though it left out the Xbox One version in the image released, which suggested that the last-gen Xbox version won't be happening.
It seems that won't be the case, as over on Amazon UK, a listing for Resident Evil 4 Remake for Xbox One has surfaced online!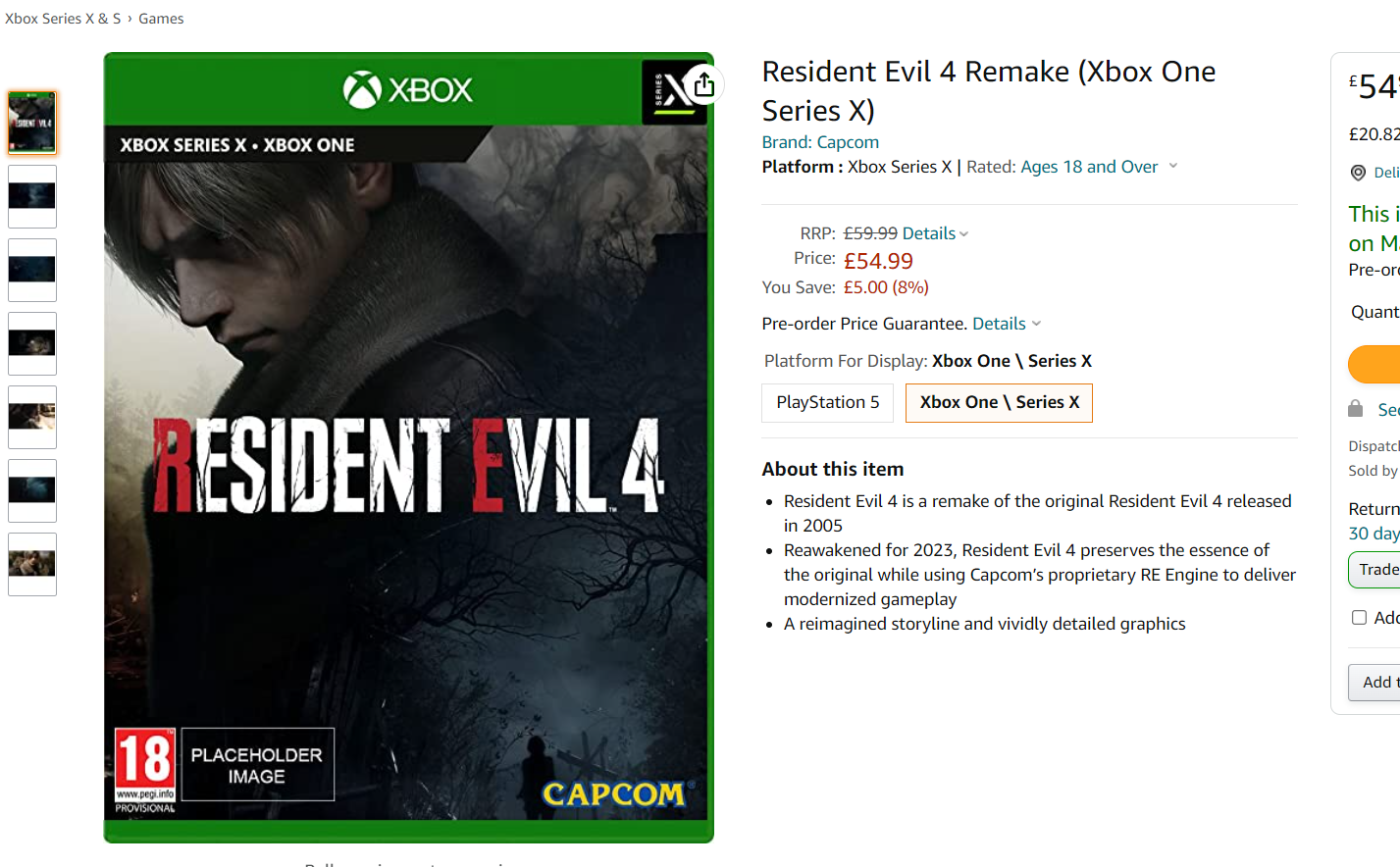 The official product description via Amazon also mentions it's coming to Xbox platforms as well:
Resident Evil™ 4 is a remake of the original Resident Evil 4 released in 2005. Reawakened for 2023, Resident Evil 4 preserves the essence of the original while using Capcom's proprietary RE Engine to deliver modernized gameplay, a reimagined storyline, and vividly detailed graphics. Resident Evil 4 is scheduled to release on March 24, 2023 for PlayStation®5 (PS5™) console, Xbox Series X|S and PC via Steam.
If it is indeed coming to Xbox One, it's not that surprising to see given it's an easy way for Capcom to earn more from the game. As for what's new for the franchise, Capcom has announced that a Resident Evil Showcase is set for October, and we're expecting new gameplay footage from RE4 Remake and other franchise-related announcements to be unveiled.
Thanks, Idle Sloth (via Twitter)